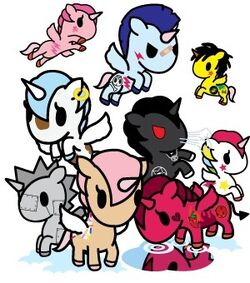 The Original Unicornos are one of ten characters on the tokidoki.it website. They are avalible in figurines. The ten known Unicornos are:
Stellina,Bellina, Dolce, Metallo, Mooka, Peperino, Pogo, Ritmo, Prima Donna and Fumo
As of today, Oct 2019 there are Unicornos and their spin off collection Mermicornos. Currently Unicornos are on their 8th series. Mermicornos are on their 3rd series. Many of these unicornos and mermicornos are featured in many prints and designs by Simone.
Backstory
Edit
The Unicornos were once simple little ponies that were out trotting and wandered into a magic waterfall. Passing through the waterfall, the ponies transformed into unicorns and found a hidden magical kingdom. The Unicornos live between the magic kingdom and our world.
Extra Facts
Edit
Due to the small release of this series there wasnt many released as there wasnt as big as a fanbase in 2013, as there is now. So these figures especially the "unofficial" chasers are extremely rare, a few like Prima Donna go for over $400 USD. There was many paint errors which was a major complaint of the series 1 figures.
Unicorno Series 1 - This is the Current Page
Series 8 - Currently being added to this site
Community content is available under
CC-BY-SA
unless otherwise noted.